What Are CoolSculpting and CoolSculpting ELITE?
CoolSculpting and CoolSculpting ELITE (the latest, most advanced version) are two breakthrough, non-invasive technologies that freeze away stubborn fat by gently targeting and cooling unwanted fat cells in the selected area to produce a noticeable, natural-looking reduction in fat bulges. Unlike most other methods of fat reduction, CoolSculpting involves no needles, surgery, or "downtime." (To learn the difference between the two treatments, click here.) Unlike most other methods of fat reduction, CoolSculpting and CoolSculpting ELITE involve no needles, surgery, scarring or "downtime."
For Men Too: Real Patients, Real Results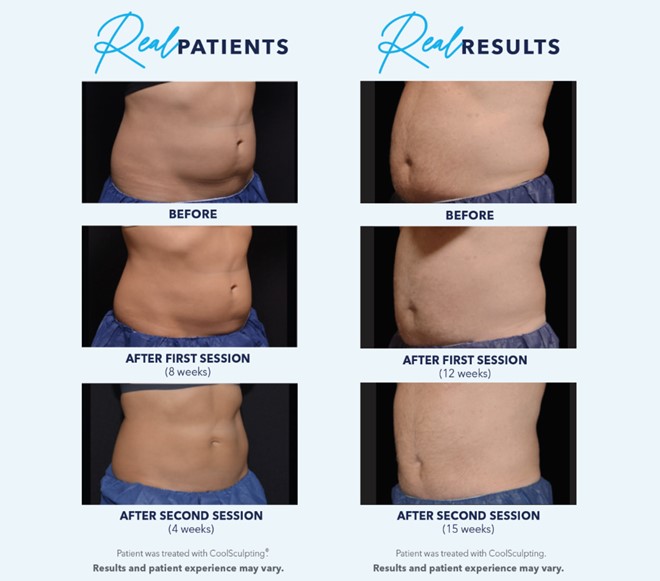 What Are The Results Of CoolSculpting
Each CoolSculpting procedure results in an average 20% reduction of fat in the treated area. With CoolSculpting ELITE, more than 20-25% of unwanted fat can be removed. Results from either CoolSculpting option can be seen as soon as 3 weeks following treatment, with the greatest results occurring over the next 2-4 months.* If your treatment plan calls for a second procedure, you can experience as much as an additional 20% reduction of fat. Note: overall total fat losses may be more or less, depending on the patient.
Both CoolSculpting And CoolSculpting ELITE Work By Freezing Fat Cells, And Those Cells Will Not Return
Unlike traditional weight loss methods, CoolSculpting completely removes your fat cells, not merely makes them smaller. It does this by freezing them, which kills them. Your body then expels those cells through your urine. After a CoolSculpting session, your fat cells in the treatment area are completely gone and will not return. As long as you maintain your weight with normal diet and exercise, your results should be long-term.*
What Happens During The Procedure
First, you and Dr. Samuel Beran, one of Westchester's leading plastic surgeons, select the area(s) to be treated. For example, if your goal is to reduce your "love handles," Dr. Beran will position the panels of the CoolSculpting device to draw the bulge up between two cooling panels. The most popular areas of the body for CoolSculpting are: love handles, the tummy, inner and outer thighs, chin, neck, upper arms, back fat and underneath the buttocks.
During the 1-2 hour procedure, you will be seated comfortably or lying down. Many patients spend this time reading, working on their laptop or simply relaxing. What you will feel is a firm tug and pull – enough of a pull to make sure the selected tissue will be cooled most efficiently. Then you will feel a sensation of intense cold, which soon goes away.
The CoolSculpting procedure is completely non-invasive, so you can return to normal activities immediately. You may experience redness, minor bruising, tingling or numbness in the treated area, but this is temporary.
How Soon Will You See Results And How Long Do They Last
You may start to see changes as quickly as three weeks after your CoolSculpting treatment.* You will experience the most dramatic results after two months.* Your body will still be flushing fat cells at that time, and it will continue doing so for up to four months.

During the CoolSculpting procedure, the treated fat cells are removed. As long as you maintain your weight with normal diet and exercise, your results should be long-term.
Highly Experienced In CoolSculpting
With over 20 years of specialized surgical experience, Dr. Samuel Beran has performed hundreds of CoolSculpting treatments with outstanding results. Widely recognized as one of the top plastic surgeons in the New York area, Dr. Beran understands how much it means to every patient to achieve the results they want. To make sure you are fully informed about CoolSculpting and CoolSculpting ELITE and understand exactly what results to expect, Dr. Beran will take all the time you need to make sure your questions are answered.
How Much Do CoolSculpting And CoolSculpting ELITE Cost?
Because every person's body is unique and the results from a CoolSculpting or CoolSculpting ELITE treatment are particular to them, the exact cost of surgery is determined by Dr. Beran after he has met with the patient and together, they have decided precisely where to apply the CoolSculpting applicator(s) to achieve the best possible results.
Ready To Discover If CoolSculpting ELITE Is Right For You?
If you are thinking about having CoolSculpting ELITE and would like to schedule a free consultation, please contact me. I will send you additional information prior to your appointment, then when we meet, I will evaluate your body type, learn what you're hoping to achieve and answer all your questions.
*Results may vary from person to person