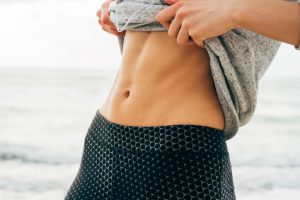 Now there's a way to build muscle and tone your body without having to do strenuous exercise or resort to surgery! Introducing EmSculpt®, a revolutionary non-invasive procedure that increases muscle and sculpts targeted areas of the body, especially the abdomen and buttocks.
If you want to tone and sculpt your body but don't want surgery and don't have the time for constant workout sessions, EmSculpt could be the perfect solution for you.
How does EmSculpt work?
EmSculpt is a nonsurgical body contouring treatment that uses an electromagnetic field to induce strong muscle contractions that bring about muscle growth and fat loss.
First, a rubber pad is placed on the target muscle area, such as your abs, thighs or buttocks. The pad then produces intense electromagnetic waves that cause involuntary supramaximal muscle contractions that are not achievable through traditional exercise-induced contractions.
When exposed to these hyper-maximal contractions, the muscle tissue responds similarly to how it responds to exercise: by releasing free fatty acids which break down and destroy fat deposits and increase muscle tone and strength, much like performing a sit-up or lunge would. To watch videos of how EmSculpt works, click here.
These forced muscle contractions also cause the body to rebuild and repair muscle tissue, resulting in stronger, firmer muscles. In fact, you'll feel the same soreness after an EmSculpt treatment that you would after a strenuous workout.
The treatment requires four 30-minute sessions — two a week for two weeks — to achieve maximum results. EmSculpt is meant for people with a BMI (body mass index) less than 25, who would not be candidates for other fat reduction treatments.
How much does EmSculpt cost?
Because every person's body is different, and the results they are seeking from a body sculpting procedure are specific to them, the exact cost of this treatment is determined after Dr. Beran has met with the patient and together, they have decided that EmSculpt can achieve the results they are looking for.
Why choose Dr. Beran for your EmSculpt treatments?
With years of specialized surgical and cosmetic experience, Dr. Samuel Beran has performed numerous EmSculpt treatments with outstanding results. One of the most respected plastic and cosmetic surgeons in the New York area, Dr. Beran has a thorough command of the most advanced techniques and technologies, including EmSculpt.
Considering EmSculpt?
Dr. Beran understands how important it is for both men and women to have a toned, firm, sculpted body, especially around the abdomen and buttocks, enabling them to feel confident about themselves and their body. If EmSculpt is something you are interested in, please contact him for a free consultation. He will meet with you, explain the procedure and make sure you understand exactly what results to expect. Also, he will take all the time you need to answer your questions.