Would you like larger (or smaller), more attractive breasts? Now you can have natural-appearing breasts that help you feel more alluring, more self-assured and more comfortable.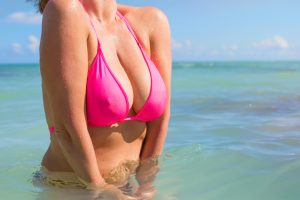 Whether you want to increase the size of your breasts, to make them smaller to relieve back and neck pain, or to correct sagging breasts that have lost their volume, breast surgery is an excellent, proven way to change the size, shape and overall appearance of your breasts.
Whatever your reason for seeking breast surgery, board certified Dr. Samuel Beran, one of the New York area's leading plastic surgeons, specializes in the most advanced techniques of breast surgery and is ready to help you achieve your goals. Contact him today for a free consultation to discuss the procedure options that would bring you the beautiful outcome you desire.
To learn more about these procedures, please click on the links below.
Would you like larger, sexier breasts? Breast augmentation surgery is typically performed to enlarge small breasts, underdeveloped breasts or breasts that have decreased in size after a woman has had children. Breast augmentation can also make breasts more symmetrical if one is significantly larger than the other. There are three types of breast augmentation implants: saline (sterile saltwater), silicone gel, and Natrelle® gummy. If you are a good candidate for breast augmentation without a lift or other surgery, you may qualify for our special pricing. (Ideal Implant is not eligible for special pricing.)
As you age, your breasts might sag as a result of pregnancy, breastfeeding, weight loss or other factors. A breast lift with or without an implant can restore the shape and contour of your breasts, enabling you to look and feel more attractive both while undressed and in clothing, and to feel more confident about your appearance.
When a woman undergoes a mastectomy (removal of a breast), she must make many important decisions during a physically and emotionally challenging time. Many patients choose to have breast reconstruction to try to restore the look and feel of their breasts as well as their self-image.
If you feel your breasts are too large and have become uncomfortable, painful or cause backache problems, breast reduction surgery can bring about dramatic, life-altering changes for you. Sometimes breast reduction is considered a reconstructive procedure, since greatly oversized breasts may interfere with normal function and physical activity. It is also a cosmetic procedure, since the surgery vastly improves the shape of the breasts and nipple areas. Many times, it is covered by your insurance.
Breast revision surgery is performed when patients are dissatisfied with their breast surgery results and want them corrected or redone, such as: altering the size of an implant, correcting implant leakage or shifting, or modifying breasts due to a change in skin elasticity.