Your lips, nose, forehead, eyes and hair…all of these say so much about you. If you're not happy with what they're saying, now might be the time to take steps toward a younger, more beautiful, more confident you.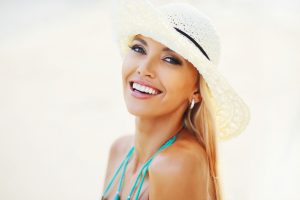 Whether you want to smooth the wrinkles around your eyes and mouth, have fuller, sexier lips, correct droopy eyelids or improve the shape of your nose, there are a host of facial enhancement surgeries and procedures that can refresh your look and your outlook on life.
Whatever your reason for seeking a facial rejuvenation procedure, board certified Dr. Samuel Beran, one of the New York area's leading plastic surgeons, specializes in the most advanced techniques of facial surgery and enhancement and is ready to help you achieve your goals. Contact him today for a free consultation to discuss the many options that can bring you the beautiful outcome you desire. Because Dr. Beran is a plastic surgeon, he can determine whether or not surgical or non-surgical procedures would work best.
To learn more about these procedures, please click on the links below.
Would you like to lose the wrinkles around your eyes and mouth? Are you tired of forehead creases that make you look angry or tired? Botox is a proven, effective way to have the unwrinkled, young-looking face you desire.
If you have droopy, wrinkled or sagging eyelids, eyelid surgery could greatly improve the look of your face, changing the way the world sees you and the way you see yourself.
Fat injection involves withdrawing your own fat from one area of your body and injecting it into another (for example, to smooth lines in your face or plump up your lips). With this procedure, an important advantage is that there is no chance of allergy or rejection.
Virtually no procedure can do as much to restore your youthful appearance and make you feel like the best "you" you can be as a facelift. Dr. Samuel Beran, one of Westchester's leading cosmetic surgeons, is an expert at achieving dramatic yet completely natural-looking facelift results for his patients.
Do you have deep lines and wrinkles in your forehead that make you look older? Would you like a smoother and younger-looking face? This might be a good time to consider forehead surgery for a more beautiful you.
If you are concerned about hair loss, medical or surgical hair restoration may be the answer for you. During your initial consultation, Dr. Samuel Beran, one of Westchester's leading cosmetic surgeons, will carefully evaluate the cause of your hair loss and discuss what treatment options will bring you the best results.
Injectables, or dermal fillers, are non-invasive, non-surgical treatments that help prevent and reverse the visible signs of aging, restoring volume and fullness in the face. Injectables can offer instant results, without surgery and its accompanying recovery time.
Want fuller, plumper, sexier lips? Dr. Samuel Beran is an expert at lip enhancement with outstanding results. He understands how important it is for a woman to have full, inviting lips and to feel confident about her face, her mouth and herself.
Your nose plays such a big part in how you feel about yourself and how the world sees you. If you would like a larger, smaller or more shapely nose, consider nose reshaping surgery so you can finally have the nose you've always wanted.