Would you like to look better in a bathing suit? Do you want to get rid of sagging skin and excess fat so you'll look trimmer and firmer? Now you can.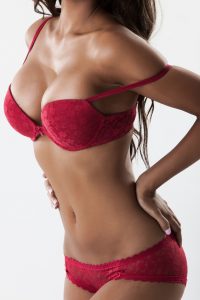 Whether you want to remove loose skin, have fuller, rounder buttocks or breasts, get rid of stubborn excess fat, and/or build muscle and tone your body, this may be the right time for you to decide to have one or more body sculpting procedures.
Whatever your reason for seeking body enhancing surgery or body toning treatments, board-certified Dr. Samuel Beran, one of the New York area's leading plastic surgeons, specializes in the most advanced techniques of body surgery and body sculpting, and is ready to help you achieve your goals. Contact him today for a free consultation to discuss the procedure options that would bring you the beautiful outcome you desire.
To learn more about these procedures, please click on the links below.
More and more these days, a firm, full, shapely "behind" has become one of the most highly valued and most noticed physical features. A Brazilian Butt Lift is an excellent, natural-looking way to reverse the negative effects of time so you can feel younger, sexier and more self-confident. Using liposuction, Dr. Beran takes pockets of excess fat from unwanted areas such as your belly, waist or thighs and transfers this fat to the buttocks area, increasing the size, shape, position and fullness of your butt.
Would you like curvier, rounder buttocks? Do you want to feel more attractive, sexy and feminine? Butt augmentation surgery might be the answer you've been looking for. This procedure takes fat cells from areas where there is some to spare and transfers them to the buttocks to create a more curvaceous derriėre.
Do you have fat bulges that just won't go away, even after diet and exercise? CoolSculpting, a breakthrough, non-invasive technology, freezes away up to 20% of stubborn fat without surgery. As long as you maintain your weight with normal diet and exercise, you should have long-term results.
How would you like to build muscle and tone your body but without strenuous exercise or resorting to surgery? Now you can with EmSculpt, a revolutionary non-invasive, non-surgical body contouring treatment that uses an electromagnetic field to induce strong muscle contractions that are not achievable through traditional exercise. The result? Increased muscle, fat loss and noticeably toned areas of the body, especially in the abdomen and buttocks.
If you've tried dieting and exercise but still have stubborn pockets of fat, liposuction (including SmartLipo) might be for you. It can be performed on several areas at the same time and can also be done in conjunction with other cosmetic plastic surgery procedures.
Have your stomach, buttocks, thighs and hips started to sag? Instead, would you like to look trimmer and firmer? Lower body lift surgery, often done in conjunction with liposuction, removes excess skin and fat below the waistline, then tightens and sculpts these areas, particularly the buttocks, back of the thighs, outer thighs, inner thighs, hips and abdomen.
Now you can take care of your children and yourself! The changes that come with pregnancy, childbirth and breastfeeding can all be beautifully reversed with a Mommy Makeover!
Do you wish you had a flatter, sexier, more toned tummy? Tummy tuck surgery, also known as abdominoplasty, is a great way to remove excess fat and skin and restore weakened or separated muscles. The result? A smoother, firmer, more attractive midsection.